Montserrat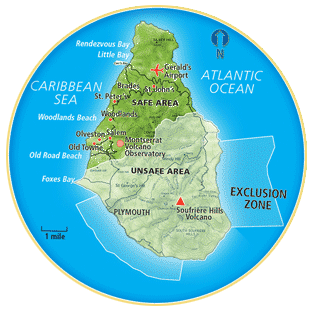 Montserrat is popularly known as the "Emerald Isle of the Caribbean", not just because of its lush, green, tropical landscape, but also because of its unique Irish connections, which date back centuries.
Named after a Spanish monastery by Christopher Columbus as he sailed past the island in 1493, Montserrat was originally inhabited by Arawak and Carib Indians.
The first European settlers in 1632 were English and Irish Catholics brought over from the Protestant island of St Kitts by Englishman Thomas Warner.
Montserrat has lots to offer: hike the entrancing nature trails, or sip a tropical drink under a warm sun, or drive the winding mountain roads which rise into lush mountain rainforests and trace miles of hidden coastline. The beguiling black-sand beaches (and the popular white sand Rendezvous Beach) provide a sense of tranquility and ample elbowroom whether you are by yourself or with that special someone.
At night the stars reach down to share their magic, and there is always a cooling breeze from the tradewinds which centuries ago carried sailing ships across the sea from Europe.
On Montserrat, accommodations ranges from intimate guesthouses and small boutique hostelries to grand oceanfront villas with pools and full staff.
Montserratians are among the most naturally hospitable people on earth and everyone you meet will want to make your encounter with the island and its unparalleled beauty an experience you will treasure.
Truly unique is the active volcano that scientists call one of the most interesting in the world. Visit the Montserrat Volcano Observatory and learn about it, its history and its future. See the awesome legacy of this force of nature from safe vantage points around our modern-day Pompeii, Montserrat's old capital, Plymouth.
The bold colours of flamboyant trees, the brilliant red hibiscus, the magical scent of blooming frangipani all become vivid memories you'll carry with you until the pull of the 'Emerald Isle of the Caribbean' brings you back again and again.
Taxes & Other Charges
Departure & Security Tax: Payable upon leaving Montserrat: US$13 (EC$35.00) for CARICOM nationals and US$21 (EC$55) for all other nationals.
Accommodation Tax: 10% for hotels and 7% for Guesthouses, B&Bs and Villas.
Tipping: 10% service charge added at most restaurants, otherwise at your discretion.
Time Difference
Same as Eastern Standard Time in summer, and one hour ahead in winter There is no winter/summer time change in Montserrat
Montserrat is 4 hours behind Greenwich Mean Time (5 hours behind Britain during British summer time).
Please refer to the Tourist board web site for further detailed information.